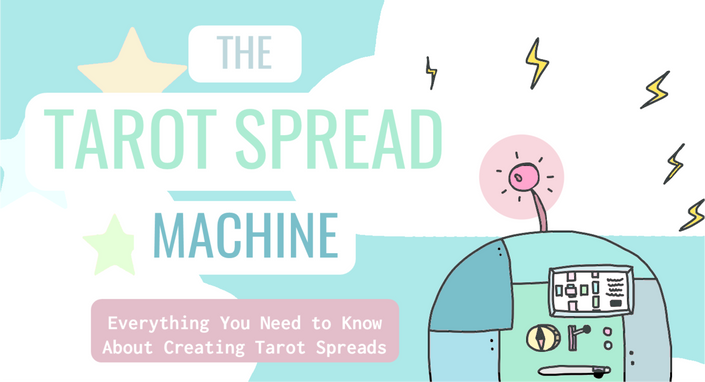 The Tarot Spread Machine Course
everything you need to know about creating tarot spreads + creating spreads for your clients AND your original deck
Enroll Now
*IMPORTANT NOTE: Please note that this course is *NOT* a companion course to my deck, Spread Crafter's Oracle (or Spread Machine Cards + Oracle)*
---
WHY CREATE SPREADS WHEN YOU COULD JUST FIND ONE ON GOOGLE?
It's true…spread crafting isn't really a mandatory skill when it comes to leveling up your tarot practice - after all, there are plenty of spread layouts you can find on the internet, and there's even a nifty oracle deck out there designed to make spread crafting super easy (heads up, it's my deck 😂) Heck, you don't even need a spread to get an effective tarot reading done. A lot of readers don't require spreads to figure out what the message is.
So why bother creating spread layouts from scratch? Well, first of all, if you're not going to change your mind about it being a bother, then this course probably isn't for you!
However, if you are looking to explore spread creation as an intuitive creative playground and a way to consciously design a reading experience for yourself or others…then this course has a lot to offer you!
MORE THAN JUST "LAYING DOWN CARDS"...
Creating a spread is so much more than just laying down cards and giving them positions so they become a spread. Here are just a few ways spread creation can really spice up and even deepen your tarot practice…

⚙️…you get to your answers quicker during a tarot reading because you've carefully crafted the spread positions to answer your most pressing questions
⚙️…you get to design a reading that helps you approach a question holistically before you even start shuffling (e.g. if you tend to be overly critical of yourself, you can include mandatory "self-love" positions to balance your perspectives)
⚙️…you can create fun, dynamic and themed spreads about your favourite topics whenever you feel like it! Can't find a suitable DND or Sailor Moon-themed spread on the internet that lights you up? Well, you'll have the tools to make one for yourself with this course!
⚙️…and if you read professionally, you can deliver a highly individualized reading that impacts your clients by customizing a spread that taps into your unique wisdom as a reader as well as the heart of your client's inquiry
⚙️…or, if you are an deck creator, you can create original spreads that further communicates the creative visions you have for your deck, and at the same time teaches deck users how to get deeper messages with your deck!
…pretty awesome, right? Keep reading to find out what's in the course!
Course Curriculum
The Tarot Spread Machine
Available in days
days after you enroll
New Quest Unlocked: Tarot Pro's Quest
Available in days
days after you enroll
New Quest Unlocked: Deck Creator's Quest
Available in days
days after you enroll
Your Instructor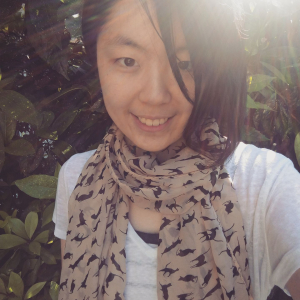 Hey there,
I'm Kim!
The creator of this course! And also: the keeper and creator of Fables Den...who is on an epic quest to help you level up your life with tarot!
I am here to help you explore the world of tarot through fun and creative storytelling, and teach you how you can utilize tarot to deepen your spiritual practice and shine your unique light. ❤
But yeah, outside of Fables Den, I am a carefree panda with a fluffy heart that likes to chill in front of my laptop with a cup of English Breakfast tea and annoy my orange cat with affectionate pokes. ❤
Frequently Asked Questions
1. I'M SO CONFUSED - WHY ARE THERE DIFFERENT VERSIONS OF THIS COURSE?
There are essentially three versions, or three "available quests" for this course. The three versions cater to the diverse needs of the tarot community. For example, you may be a solo-practitioner and you may not necessary be a deck creator, so why spend money on that chapter? Similarly, you may be a deck creator, but you may not be interested in offering readings or service. If you happen to be all three (solo cardslinger, professional tarot reader AND deck creator) or you're just interested in getting everything, you can purchase the Quest of All Quests which includes EVERYTHING from the Tarot Pro's Quest and the Deck Creator's Quest. Like, literally everything and no separations. All three courses will contain chapters one to six and all the materials associated with each chapter, so regardless of which version you buy, you will always get the first six chapters of the Tarot Spread Machine.
2.. WHAT LEVEL OF TAROT EXPERIENCE DO I NEED TO ENROLL IN THIS COURSE?
This course is friendly and open to all levels of tarot practitioners! Wherever you are on your tarot journey, you will be able to follow along + utilize this course without issue. You don't need to have all the card definitions memorized in order to partake in this course - but it will help if you have some basic experience of doing a tarot reading so you will be able to visualize and understand the flow of a tarot spread as you will be creating spreads that you can read with. If you're a beginner and you're just starting out, you can simply start by creating smaller spreads and move on to bigger and more complex spreads as you grow! This course is all practical process + application, so it can definitely grow with you and accommodate all stages of your tarot journey.
3. HOW LONG DOES IT TAKE TO COMPLETE THIS COURSE?
Depending on which "quest" you have decided to embark on, the hours may vary. Plus, this course is do-at-your-own-pace, so you can take it slow, speed it through, or go with the flow. Whatever you like! But just to give you an idea, If you dedicate 30-40 minutes a day, you can complete the Tarot Spread Machine Quest in about 5 days, the Tarot Pro's Quest in about 7 days, and the Deck Creator's Quest in about 7 days as well.
4. WHAT MATERIALS OR TECHNOLOGY DO I NEED TO COMPLETE THIS COURSE?
The course is hosted by Teachable, which is an online platform. You will need either a computer, a tablet, or a phone to be able to access this course. You will also need internet connection. There are printables in this course, so if you have access to a printer, you will be able to print all the PDF documents that are included in the course. This is not necessary if you just want to use the digital copy - as all of the PDF documents can be filled out digitally too.
5. WHEN DOES THE COURSE START AND FINISH?
Upon purchasing this course, you will gain instant access and you can start immediately. There is no designated start or finish date for this course as this course is do-it-at-your-own-pace. So you are free to begin right away and check back in whenever you feel like it.
6. WILL THIS COURSE CONTINUE TO UPDATE? WILL I GET ACCESS TO THOSE UPDATES?
Yes. This course will evolve based on things like student feedback and what I personally want + expect from the course. You will get access to all the future updates once you've purchased this course.
7. WHAT IF I'M A TOTAL NEWBIE?
That's cool! This course is designed for brand new adventurers like you. It covers all the basics that you need to create amazing spreads for yourself so you have absolutely nothing to worry about!
8. WHAT IF I ALREADY KNOW HOW TO CREATE TAROT SPREADS?
That's cool, too! This course is designed to add to one's creative process and you are free to utilize this course in whatever way you see fit. The 4-Step Creation Process and all other spread creation strategies are all designed to expand your creative "headspace" + give you more options to make choices that reflect your creative intentions. It is highly adaptable and it's all about enabling you to be creative in your own way.
9. DO YOU OFFER A REFUND POLICY IF I DON'T LIKE THE COURSE AFTER I BUY IT?
Yes, I offer a 7-DAY refund policy! You may request a refund for up to 7 days after you purchase The Tarot Spread Machine. If you feel that this course isn't helping you with your spread-creation process at all - I will issue a 100% refund. To be eligible for the refund, you must: 1) Submit your request to
[email protected]
within 7 days of purchasing the course, AND 2) Submit your completed coursework for chapter 1 - chapter 4. This is to show that you have tried and experimented with the content and process provided in this course and it simply isn't working for you. If that is the case, I will offer you a refund. Unfortunately, no refunds will be provided for: Purchases that were made more than 7 days ago Refund request made without any coursework submitted
10. IS THE COURSE WORTH IT?
Hell yeah! I created this course to completely EMPOWER your creative process with practical, easy-to-follow steps and TONS of study materials to help you MAXIMIZE your learning experience. From course content, hands-on examples, walkthroughs, notetakers, worksheets, checklists, reference sheets....when it come to teaching and creating something to help others level up, it's go big or go home for me, yo!
11. AM I ALLOWED TO SHARE & DISTRIBUTE YOUR COURSE IN ANY WAY AFTER PURCHASING?
This course is created for your personal and noncommercial use and may not be shared, distributed, modified or re-purposed in any shape or form. Doing so is considered intellectual property theft and an infringement of my creative copyright. All materials attached to this course is for PERSONAL and NON-COMMERCIAL USE ONLY. Please keep that in mind when purchasing and engaging with the course. If you are discovered to be doing something shady with my materials (such as sharing, distributing, modifying and re-purposing without permission), you will get kicked out of the course without being offered a full refund and without any notice. In short, please don't steal my stuff.
12. I HAVE MORE QUESTIONS THAT ARE NOT INCLUDED IN THIS Q&A
Please do not hesitate to send me an e-mail via kim [at] fablesden.com with all your inquiries. Or if you just want to say hi and tell me how dorky I look with that pencil photo. :P I personally think I look pretty epic and I'm on the road to ultimate glory.